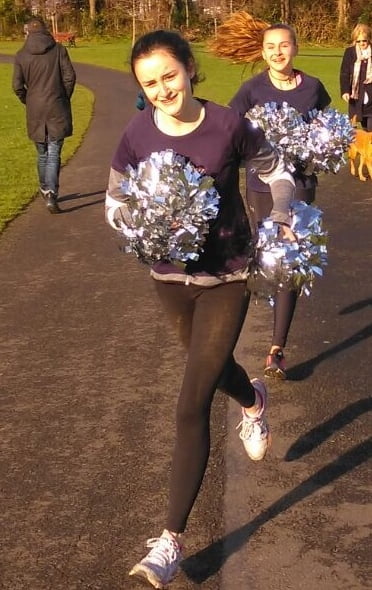 M2M Tornados Cheer-A-Thon
Well done to Motion2Motion Tornados Senior Squad from Clonskeagh. The girls completed their Cheer-A-Thon on Sunday 5th of February in Cabinteely Park. After a week of constant rain the sun was shining for us all morning. 
The girls were raising money towards their new uniform for their very first competition, which will be taking place at the start of the summer.
The Cheer-A-Thon consisted of a 2.5k run (which became 3.5k after the girl's lovely leader decided to take the longer scenic route on the first kilometer of the run). Between each kilometer the girls completed 15 minutes of continuous Jumps, Tumbles and Stunts and finished off the day by showing their supporters their competition routine.
We would like to say a massive Thank You to dlr Parks for allowing us to use Cabinteely Park, to Tim and Lydia for volunteering to lead the run and to all the parents who came to support, especially Sandra for all the lovely orange slices for the girls. Last but not least  thank you to all the girls who took part, you were amazing. I was a very proud coach. Roll On Comp!
#cheerleading #m2mtornados  #teamwork #motion2motionschoolofdance